Saturday, January 29, 2005
Untitled
Today was a day of FIRSTS, my mom woke me at exactly 8:00 am I'll be driving her to makati. Its been over a 2 months since I driven a vehicle since I got sick. It was also my first time to drive with my glasses on and use the clip on shades. My sight was much better the P4000 glasses were worth every peny. Everything went well...
... I was at first hesitant to further press the gas but in the long run confidence came back and my top speed was 100 at the sky way .
In the afternoon: I was supposed to have my check up last 26 but my neuro rescheduled it this afternoon. The dosage went up I'm now taking 50mg twice a day. My activities are still limitted depending on how the increase in dosage will effect me. I'm still not allowed to go to the gym and go power walking however I can go swiming or jog/walk in the swiming pool if I'd like to do some cardio.
HAhaha funny thing is... that I don't know how to swim...
... I already have some plans in mind I hope it works. Well all the best of luck to me!
Labels: Daily Musings
Wednesday, January 26, 2005
Just Turned Twenty Two: Part II
I always preffered a simple and intimate celebration with the family
and so far I'm really having a good time on my birthday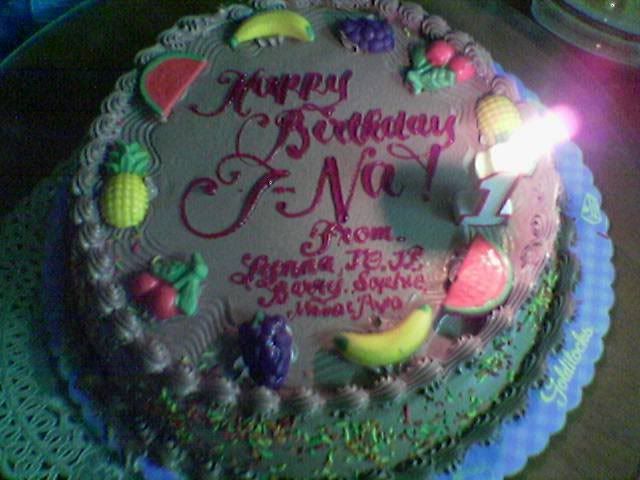 If you're wondering why the candle is "ONE"
Its a symbol of the"Begining of the new ME"
My mom, lynna and jc surprised me
(but I always had a hunch) with a
Wow Magic Sing Premium Silver 2005 edition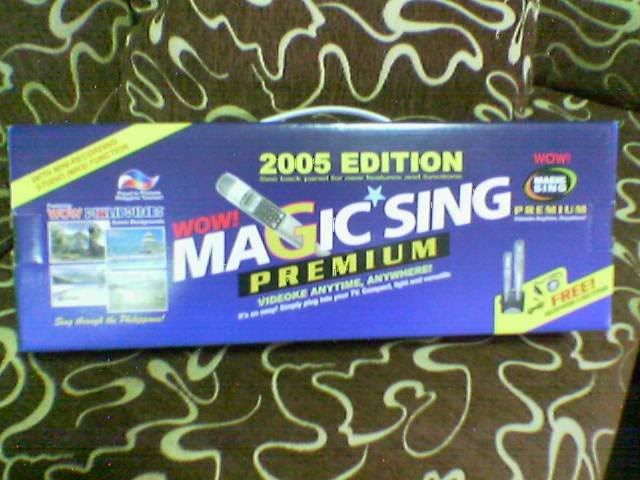 We are had a blast last night singing away
and playing with the different functions of the mic.
Labels: Daily Musings
Tuesday, January 25, 2005
Just Turned Twenty Two
!!!HaPpy BiRtHdAy to Me!!!!


!!!HaPpy BiRtHdAy to Me!!!!


...HaPpy BiRtHdAy...


...HaPpy BiRthDaY...
!!!HaPpy BiRtHdAy to Me!!!!
Saturday, January 22, 2005
Eyes Shut
by Rose A. Balmes
Whenever I close my eyes
I find myself once again
standing at the edge
The downcast sky pout down
Warning me of its coming rage
Staying unmindful of the strong winds
that are forcing me down to my knees
Undaunted by the deatening thunder,
Unbelieving of the blinding lighting bolts
that are breaching the sky
The heavens vented their rage
Grenching the fiery trees
Beating my helpless body
But still standing on the edge,
Surrounded by red waters
Patiently waiting,
For the time to jump

** Rose or "Ate Rose" as I call her is my artistic and morena beauty cousin. I was browsing through her journal and was asked which among her sketches and poems did I like most. I chose this one and eventually i'd like to scan the sketch that she made.
Labels: Anything Goes
Tuesday, January 18, 2005




The Simple Joy of Coloring

I'm currenlty listening to Sarah McLachlan's "Afterglow"
which best describes my current state. I've been feelin' sleepy these past few days and I wonder about tomorrow... Dosage would be increased again I'll be taking them 3 times/day.

I'm feeling creative so I bought some coloring books last Sunday. Coloring books are expensive nowadays... I was looking for those jumbo coloring books that my mom used to buy me when I was still little (those were considered serious stuff then along with matching BIG Crayons... hehe). Browsing through I saw a couple of "fake jumbo coloring books" why fake? because way back in my time (GEESH! I'm really getting OLD!!!) They used to make really thick jumbo coloring books not just 1 inch thick books I'm taking about 2-3 inches thick coloring books.I could visualize myself as a little girl begging my mom over and over until she gives in and buy me a copy. Somewhat contented I settled for a more mature fairy themed coloring book. It takes me at least 1-2 days to finish coloring a page since I feel sleepy at times, first 15-20 mins I'm hyped and coloring about... And the next off to
ZZZzzZZzzz Land.

Labels: Daily Musings




Monday, January 10, 2005




Not bad... not bad at all!

I got my glasses already! hehehe and its not bad not bad at all... Everything is more clearer... duh! That's its purpose. My sister is very excited to see me in them, she always like a good laugh (especially if she is laughing at me!) she isn't home yet and I think she'll be really disappointed cause the glasses look good on me! HARHAR! the last laugh is mine : P I was supposed to see my pulmo doctor today but she has an emergency. Its the 3rd time that my check-up has been rescheduled.

I uploaded a new skin for my blog. The main picture is from my favorite nicktoon "As Told By Ginger" and as you can see I have added other gadgets like the geoloc (very cool!).

Labels: Daily Musings




Wednesday, January 05, 2005




Baby Steps

I had my check up this afternoon with my neurosurgeon and ophthalmologist. My neuro gave me a migraine medicine, which is quite interesting since its side effects are dizziness, lost of appetite and drowsiness. The Dosage ( 25 mg) will start from 1st week, once/day, 2nd week twice/day, 3rd week 3 times/day. Strictly advised that If I feel sleepy I must give in and sleep. Hehehe I'm already imagining the state that I'll be in a week from now... in deep slumber. I'm scheduled by the 26th to see him again.

Since I've been confined my vision became blurry hence an additional visit to the ophthalmologist. If my memory serves me correct the last time I had an eye check was during my 1st year in college. The doctors office looked plain and simple but the gadgets that he used was high-tech! I was really impressed. After the tests I was advised to wear glasses and prescribed some medicine drops good for 3 weeks.

I'm not really a big fan of glasses since its really hard to find a good frame that would compliment my round face shape. Unlike others, they probably collect and use it for fashion while I... I'm forced to have one for driving sakes! (yes,I just have 1 pair of shades). I wasn't really looking forward to choosing frames for my glasses good thing the wife of my doctor helped me choose one. I tried a couple of pairs till she said "Wait... That looks good on you!" and I took her advise. I'm not so looking forward to my glasses!



Tuesday, January 04, 2005




Sophia Eloise: Our new baby!

My mom wanted to buy a female Shih Tzu puppy for my sister Lynna as her Birthday/Christmas gift. Three weeks has passed since we brought Sophie home. We derived her name "Sophie/ Sophia" from an abs-cbn noontime cartoon show "Sophie" and "Eloise" from a famous children book "Eloise at the Plaza". A common trait that these character have are their naughtiness, innocent and deceiving looks .


...Look what Santa left us for Christmas...
Labels: Daily Musings
Saturday, January 01, 2005
Journey to the Past
HOPE, FAITH, PATIENCE, COURAGE and LOVE
Every start of the year I always see to it that I have my "mantra" which would be my inspiration through out the whole year. Last Dec 8, 2004 I had the chance to watch Lea Salonga's Home for Christmas at the Araneta ,despite my condition, and this particular song struck me the most ( Leas' version was delivered with great passion). It was the first time that I actually heard the full version.

Heart don't fail me now,
Courage don't desert me,
Don't turn back now that we're here.

People always say,
Life is full of choices,
No one ever mentions fear.

Or how our road can seem so long,
How the road can seem so vast.
Courage see me through,
Heart I'm trusting you,
On this journey to the past.

Somewhere down this road,
I know someone's waiting,
Years of dreams just can't be wrong.

Arms will open wide,
I'll be safe and wanted,
Finally home where I belong.

Well starting here my life begins,
Starting now I'm learning fast.
Courage see me through,
Heart I'm trusting you on this journey to the past.

Heart don't fail me now courage don't desert me.

Home,

Love,

Family

There was once a time I must have had them to.

Home,

Love,

Family

I will never be complete until I find you hey.
One step at a time,
One hope then another,
Who knows where this road may go.

Back to who I was,
On to find my future,
Things my heart still needs to know.

Yes let this be a sign,
Let this road be mine,
Let it lead me to my past.

Courage see me through,
Heart I'm trusting you,
To bring me home,
At last,
At last,
Ooh (courage see me through heart I'm trusting you)
hey yeaah (repeat)