Thursday, March 31, 2005
A day of Rants and Raves
Today was a day of Rants and Raves.
Enumerating the raves, well first I already received my last pay and being true to my promise I bought Sophie her first dress. She has been wearing Barry's t-shirts and has likened one of them "the orange shirt" that she doesn't want Barry to wear them anymore or else they end up running around the house, barking and fighting hehehe very entertaining.
We usually shop at our favorite local pet store and we were trying on clothes for Sophie, Barry was very behaved sitting patiently on a monoblock chair and then I saw this cute blue striped shirt with a matching built in bag I first thought that It was too big for Sophie and as I turn my back Barry flashed his 100 watt smile. Hmmmm.... I said I tried it on him and it fit perfectly.
If you'd notice As you enter my site you'll hear the theme of As told by Ginger I uploaded plus a circle out effect as you enter and leave my blog (cool!!!)
Finally I got to watch the last episode of ATBG!
Here are some snapshots of Sophie and Barry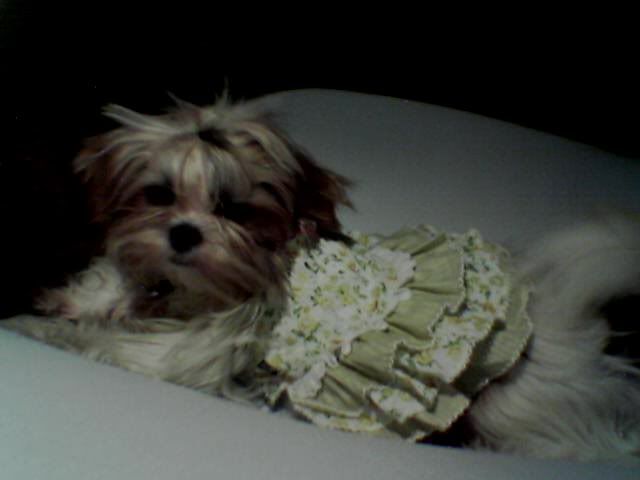 Sophie looking all pretty in her ruffles dress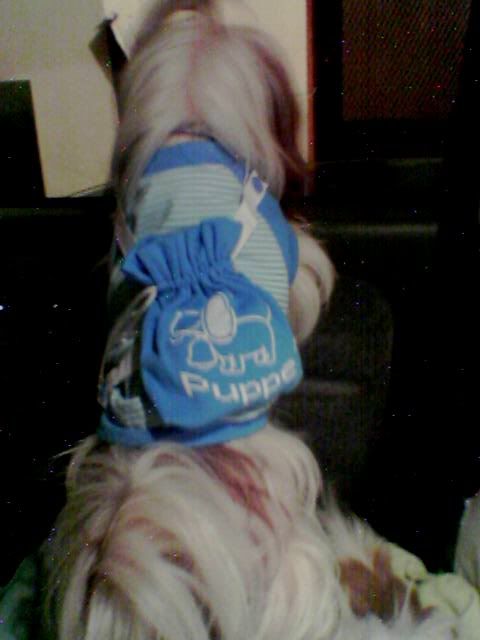 Barry showing off his new shirt with a built-in-bag
and the Rants...
Anwar was in the bottom three or rather bottom two! not so deserving! although last season Fantasia also had her fair share of the bottom three and now she the "American Idol".
Lea Salonga anounced at our google news group that she would be momentirely retiring from posting/ answering inquires etc. due to some unruly members and I quote:
"It seems that a lot of you guys here know talk a good game; now prove it.I'm tired of the back and forth discussions here of "they should have donethis... the producers were terrible... they could have done better, blahblah, blah..." Since some of you are such geniuses, put the brain power you're wasting on this newsgroup and do something more constructive with your time.
I'm going to retire from this group for a while... you guys have been exhausting."
- Lea Salonga
Labels: Daily Musings
Sunday, March 27, 2005
!!!HaPpY EasTeR!!!
We had visitors over today, my cousin and niece, we had a blast just playing around the house. My niece, Nicole, is only 6 yrs old and my oh my once she starts talking nothings stopping her (probably if she drinks water or eat but other than that none) . Whenever there are holidays such as this I always remember little kids. Its quite interesting and very entertaining how they think nowadays. I really love hanging out with them, talking to them, since you can learn a lot of things from the simple facts, current events, weird ideas and YES even gossip.
Before I got sick that's like way back... I had a sideline/partime job as a "Party Host" for Educational Themed parties for kids from simple house parties, clubhouses up to extravagant hotels. Although I won't deny that its very tiring since besides hosting and participating in games I'd also have to assist the kids on how to do the activities (such as painting, crafts etc) and sometimes some kids can be so demanding (especially the spoiled ones hehehe) I was still enjoying and just seeing their smiles, excitement and or hearing their ideas/ thoughts... just very amusing and at the end of the day/party they approach you looking cute and quite messy from all the crafts they made saying: "Bye Teacher Tina" ... and that just sounds soo good to my ears.
Labels: Daily Musings
Thursday, March 24, 2005




I don't have any idea for the title

We are currently observing the "Holy Week". I have collected fond memories/ experiences during this season. Eversince I could remember my mom keeps strict list of "What to Do" during this Lenten season such as:
1. no-meat during Fridays which would be observed ash Wednesday onwards
2. During the actual Holy week no-meat would be observed starting Holy Monday up-till Black Saturday.
3. We go out of town only on Easter Sunday to celebrate.
4. Attend mass and if possible join processions, vigils etc.
5. We were only allowed to watch movies and whatever is on Tv that is Lenten related/ religious.
6. We can't listen to the radio/any happy music.
7. We can't be too loud
8. Reflect and Pray
9. Everyone should be at home.

What a list huh?? but of course over the years there are some adjustments made since were are all grown-up now. We could watch TV and listen to the radio/music but we have to do it discreetly thus turning off the SPACE (surround) sound on my TV as well as adjust the bass and treble on my speaker. Attending Mass and other practices is also optional since my mom believes, and so do I, that we should not force someone who is already matured (held responsible for their actions) to do something that is not coming from the heart and against their will. Up till present numbers 1,2 and 9 are non-negotiable. Last year we celebrated Easter in a private resort with my moms side of the family but for this year we have no plans yet but my mom mentioned or rather gave me a hint that she wants to go to Nasugbu, Batangas. We'll see. I'm still having second thoughts on buying my boombox hehehe... again having second thoughts... Although my mom offered to use my extention card hehehe... I'm thinking of gain investing the money to my TD along with my last pay. Whahhhaaa!!! I was confused then I'm blank.

Labels: Daily Musings




Saturday, March 19, 2005




Je ne peux pas penser de l'un

This was quite a busy day for me I accompanied my mom to Makati early this morning and had 2 appointments with my ENT and Derma. My niece, Nicole, graduated yesterday (primary school) and we were suppose to buy something for her but unfortunately my mom was not feeling well. Good thing we were still in the clinic when her BP went up. So for the rest of the day I plan to just stay at home.

My mom told us yesterday that papa already received a telefax confirming the date as to when he'll be coming home. We are all excited to see papa's reaction since he really adores Barry we are all hoping that he'd also like Sophie. In-line with this papa is also turning 50 this coming May and my mom wants to plan a party for him, inviting papa's side of the Family (that are residing here in Manila) since we rarely see them at all. My mom called my dad "The Golden Boy" hehehe and the way she said that particular phrase just made me laugh, My dad is kinda bald... and I was thinking like Golden Buddha or something hehehehe.

American Idol Update: Lindsey Cardinale was the first one out of the final 12 and I'm sad that I won't be able to see her perform anymore Tsk...tsk.. she really does have a heavenly voice. She got my attention during the auditions when she sang "Standing right next to me" and I was really amazed how deep sexy and sultry her voice is I just hoped that she'd pick good songs /repertoire that showcased her talent but she didn't quite had the right song thus she was voted out. *sad*

Labels: Daily Musings




Tuesday, March 15, 2005




Blabber

I decided not to watch Norah Jones instead I'll be buying the boombox that I've been longing to have since highschool. Its just too bad that there was nothing mentioned on TV about Norah Jones Concert here in Manila. I've been doing some research on which brand and model (which I usually do before I buy any gadget) I would buy so by the time that I go to a retail store I wouldn't have second thoughts anymore.

Two months has passed since I processed my clearance for my last pay at my previous job and yet haven't received any feed back as to its status. As to my last inquiry a colleague and a good friend of mine promised to text me as soon as she gets the digits on how much I would receive. I've been there and I have full understanding of how the process is made and how "toxic" HR is... so I don't really mind the delay. Probably I'll give them a holler this week just to see hows everybody doing.

I'm raving about American idol my 3 favorites are in on the final 12. Anwar sang a jaw-dropping version of "What a Wonderful World" after that last note I was just ... Wow...

I'm definitely hooked on watching this season I hope my favorites get a shot at the title, so that I could buy their albums just like my last season favorites Fantasia, too bad George Huff doesn't have a record deal yet.

Labels: Daily Musings




Wednesday, March 09, 2005




Shut up, wait and see

I have a lot of things going on in my mind... making plans... preparing myself for expected and unexpected things to come my way, just looking forward. Others may suggest "Why only look when you can take a step that makes sense.." Well taking that step is not that easy for me I still have issues to resolve and I think its bullshit that other people are pressuring me to do the so called society's "right thing/ acceptable demeanor"


Everything takes time... and only I will know when I'm ready to take that first step you'll just have to shut up, wait and see.

Labels: Thinking.Out.Loud




Tuesday, March 01, 2005




To Do List # 2

Although I'm allergic to dust... I've been dying to renovate my room so I stayed up late last night and got a little carried away with cleaning my room. Its not your typical "Oh its yuck kadiri" type of allergy -I'm really allergic to it... as well as cigarette smoke that with just one breathe of the particles into my system could make me sick! Its as if you're cutting off my oxygen supply- and I'm not exaggerating.

I never imagined that I've collected so much magazines dated back 1999 up till present. Originally I planned to archive the magazines but considering the space that it would take up... not worth it. So I decided to give my magazines (some) to my auntie since she really fancies reading them and getting new ideas for her catering business. Before giving them out I'd be keeping some interesting articles, cute pictures etc. and with a particular scene in the movie "One Hour Photo" starring Robin Williams as inspiration (he posted all of the "5x6" pictures that he collected on the wall) The pages that I snipped out will be placed as a collage on my wall. Nice...

My dad will be coming home by april and I'm excitied to see him since its been 9...10 mos in counting that I haven't seen him. He is the OC GURU when it comes to cleaning the house. I'd like to ask for his help in my goal, renovating my room. Probably get some fresh paint new fixtures hehe by the way my Dad and I painted my room way back then ...12 yrs ago I think... And I also plan to do so.

As of the momment I'll be doing my collage, till then...








Labels: Daily Musings