Thursday, April 28, 2005
Life is full of surprises!
Even before my dad got home, he kept mentioning that he wanted to go home to Iloilo (my parents hometown) while he was on vacation and he is also eager to visit my Lola (my dad's side of the family, actually she was here in Manila last year to have her operation). We were already planning to set a date by next week, when my mom called and said that she already bought one-way airline tickets for tomorrow morning. I was surprised... I was even more surprised and excited than my dad. ...Why... because of my hammock! I absolutely love the hammock at my lola's house. I could just stay there all day fresh air, with a good book, music or just simply stare blanky at the sky. Well this is it for now... I'd have to take my meds so that I can wake up early.
Labels: Daily Musings



American Idol Says Good Bye to...Constantine...

Can I just excuse myself for a moment...

NOOOOOOOOOOOOOOooooOOOOOOOOOOoooooOoooooOOooooooooOOOOOOooooO
OOooooOOOoooOOOOoooooooOOOOOOOOOOOOooooOOOOooooOOOOOOoooooooooo
ooOOOOOooooOOOOOOOOoooooooooooooooooooooOOOOOOOOoooooOOOOOOOOOO
OOOOooooooooooooooooooOOOOOOOOOOOOOOooooooooooooooooOOOOOOooooOOOo
OooOOOOOooooooOOOOooooOOooooooOOOOOOOOoooOOOOooOOOOooo!!!!!!!!!!!!!!!!!!
??!!????!!?Why Constantine??!!????!!?

American Idol Voters It's IMPERATIVE that you visit your ENT Doctor and ophthalmologist! Something is wrong with you guys... its a little troubling don't you think???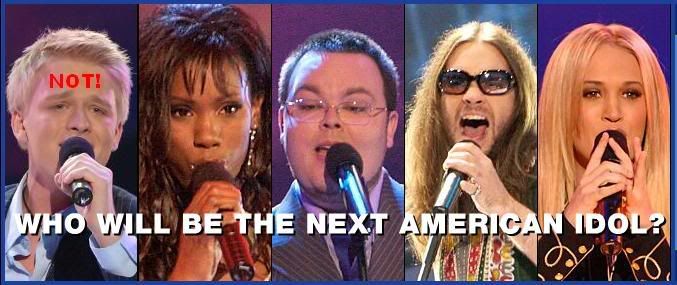 Now that all of my favorites have been voted out... I'm rootin' for Bo Bice and Vondel.
Its a sad... sad... sad day...

Labels: American Idol




Monday, April 25, 2005




The Big "D"

I slept early last night since I'm having headaches again. I woke up late this afternoon because of the meds I took last night. I have none much to blog about, at the moment I am finishing my durer fera et le testament which I'll be posting excerpts of it here. A common reaction like my sister gave and probably what you'll also say "What the hell are thinking about!" Don't worry I not about to take my life or do something stupid.

It all started when the topic was brought up during a typical family dinner. Hey don't get the wrong idea that we enjoy or rather its normal for us to discuss a morbid topic, it just so happened that a family member in the province died. My mom and dad was having a healthy conversation (debate) about whether or not a person knows that its his/her time... I was enjoying my dinner when my mom suddenly asked me " So Kristina, how did you feel when you were at the hospital? I was caught by surprise... I was slowly processing the question my mom just gave me... and was also quiet shocked that my mom finally recognized the gravity of my condition. I didn't utter a word. I was suddenly reminded of the ordeal that I went through and how serious it was. My dad sensing that it was kinda awkward for me just gave his conclusion and went on to another topic.

Since then I've been reflecting on death... and quite frankly I have realized alot of things and also I will learn a lot as I get older about reality and its components.

Labels: Daily Musings




Thursday, April 21, 2005




R-E-A-L-I-T-Y TV

This is my second time typing today's entry. I was supposed to publish this by 6:30 pm but I decided to save it as draft first since Barry kept on barking and making cute faces. I attended to Barry's needs first then went back to computer clicked on edit and ka-poof! The entry was blank! I'll try to recall what I typed...

I'm hooked on watching Reality TV shows American Idol, Amazing Race, The Apprentice to name a few. I find them very amusing and informative.

American Idol: A recap of yesterday's episode, the theme was '70s dance classics night. I enjoyed Vondell's version of "I'm Every Woman", Anwar's "September" Bo and pouting Constantine performance wasn't bad either. Carrie was ...ok... she has a wonderful voice but she looked stiff and is lacking something. This seasons AI is very unpredictable. The bottom three today was Anwar, Anthony and Scott. I was taken a back when Seacrest said goodbye to Anwar! Totally not deserving... I was really rootin' for Anthony Fegorah to go home. I think some "AI voters" should have their ears cleaned...

Amazing Race: A recap of the latest AR Lucknow to Jodhpur India episode, Gretchen and Meredith's wild elephant ride and the highlight was when Uchenna and Joyce decided to gamble and take the fast-forward. During the elephant ride detour, I was worried with how tired Meredith was from pushing the elephant ride. He was breathing heavily I even thought he was having an asthma attack or something. Good thing they got through it and amazed me with the couple's endurance. They beat Lyn and Alex to the pit stop kudos to you! Meredith and Gretchen! "It is a custom in India to express gratitude for good fortune. To win the Fast Forward each of you must have your head shaved". As they say "A woman's hair is her crowning glory" Joyce impressed me as she sacrifices her hair with out hesitation. The teary eyed Joyce just said "let's just get through with it!" I hope these 2 teams have a chance to be in the final 3 or better yet win the million dollar prize.

Outback Jack update: Jack, "Vadim" his real name, and Natalie are already engaged!

We are currently experiencing a connection problem with our broadband provider. It's been 2 weeks since we had a last good connection tsk...tsk... I hope they fix it as soon as possible although they have been apologetic about it, but it's just not enough! Give me my 100 mbps back!

Labels: Reality TV




Wednesday, April 20, 2005




Pope Benedict XVI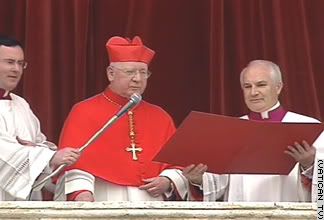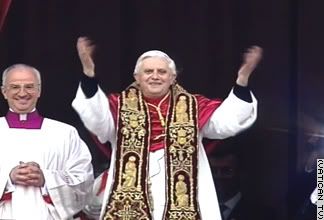 12:41 pm (Manila Time)

Cardinal Jorge Arturo Medina Estévez greeted the crowd in different languages and announced that Cardinal Joseph Ratzinger of Germany has been elected as The New Pope. He has chosen the name Benedict XVI

12:48 (Manila Time)

Pope Benedict XVI appeared from the balcony of the Vatican Basilica to greet the people and briefly addressed the crowd and deliver his first papal blessing.

"Dear brothers and sisters, after the great Pope John Paul II, the cardinals have elected me - a simple, humble worker in the vineyard of the Lord. The fact that the Lord can work and act even with insufficient means consoles me, and above all I entrust myself to your prayers. In the joy of the resurrected Lord, trustful of his permanent help, we go ahead, sure that God will help, and Mary, his most beloved mother, stands on our side."
Roar Of Jubilation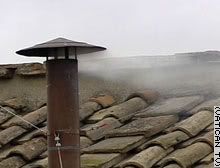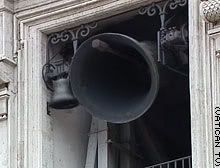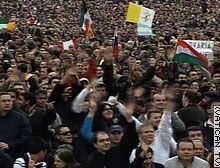 19 April 2005 - 11:50 pm (Manila Time)

Flag-waving pilgrims in St. Peter's Square chanted: "Viva il Papa!" or "Long live the pope!" as white smoke came out from the Sistine Chapel chimney ignited the crowds spirits when the vote was confirmed.

20 April 2005 - 12:04 am (Manila Time)

The Great Bell of St Peter rings announcing that a new Pope has been elected.
I had goosebumps the moment that I heard the first bell toll. The crowd broke into a roar of jubilation. Awaiting the name of the 265 Pope to be announced by Cardinal Jorge Arturo Medina Estévez


Tuesday, April 12, 2005




What IFs?

I'm currently watching Hannibal from the famous trilogy of Hannibal Lector series. My sister bought me a couple of DVD's yesterday from a list I gave her, a list of my favorite movies. We picked up Papa from the airport this afternoon. I'm glad that I didn't buy the boombox because papa gave me a small DVD player with speakers thus I can play my CDs and other compilations I made. He adores Sophie since she was very malambing/sweet to papa. Well of course the minute he stepped into the car he was looking for Barry hehehe He really fancies him since Barry was our first house pet. We actually consider them as a member of the family no family vacation is complete with out them. Barrys birthday is coming up... usually I just buy him a new toy or treat for his birthday it was not really celebrated but now its going to be different. He really like Sundae Mcdo and fries and just recently he wanted a taste of whip cream -weird- but adorable. He really is a picky eater he only eats what he wants to eat.. I'm the one to blame I spoil him too much... but its worth it! I really love my baby! If only I knew Barry way back then maybe I'd be Veterinary Medicine student by now... well its not too late either...

Labels: Daily Musings




Wednesday, April 06, 2005




Happy Birthday Mama!

I woke up earlier than I usually do and went directly to Mama's room kissed her on the cheek and enthusiastically said "Happy Birthday Mama!" Its my mom's birthday today and eversince I always have the habit of giving a simple gift for my mom and of course as the eldest I usually initiate and ask my siblings as to "what are we going to give for mama?". Hehehe looking back when I was little my mom loved the drawings I made for her. She often requests that I make one for my ninong and ninangs but eventually I got tired of it. Yesterday my mom made an unusual request, that we shouldn't bother buying her a gift. Well it was really late and my sister and I had to make up an excuse just to got out without her. I was actually planning on buying her a dozen red roses (her favorite) last night but unfortunately the shops were already closed by the time I got a chance. Well at least my mom got her wish...my dad is going home on Monday...

I've been sleeping late these past few days because of the recent events that has happened. I'm always watching CNN and BBC keeping up-to-date with what was happening at the Vatican. Its very sad that our beloved Pope John Paul II left us already but looking on the brighter side at least he is already back HOME with his family and God.


Sunday, April 03, 2005




Pope John Paul II: a Pilgrim of Peace
Pope John Paul II 1920-2005
VATICAN CITY - Pope John Paul II, the Polish pontiff who led the Roman Catholic Church for more than a quarter century and became history's most-traveled pope, died Saturday night in his Vatican apartment. He was 84.

"The angels welcome you," Vatican TV said after the announcement came from papal spokesman Joaquin Navarro-Valls.
"The Holy Father died this evening at 9:37 p.m. (2:37 p.m. EST or 3:37 am, Sunday Manila time) in his private apartment. All the procedures outlined in the apostolic Constitution `Universi Dominici Gregis' that was written by John Paul II on Feb. 22, 1996, have been put in motion," Navarro-Valls said. Cardinal Angelo Sodano, the Vatican No. 2 official, led a tearful crowd of 70,000 people in St. Peter's Square in prayers for the pope. Some people held their hands to their heads in disbelief. Others cried uncontrollably as they stood in the massive plaza beneath the pope's still-lighted apartment windows.

John Paul declined rapidly after suffering heart and kidney failure following two hospitalizations in as many months. Just two hours before announcing his death, the Vatican had said he was in "very serious" condition, although he was responding to aides. Since his surprise election in 1978, John Paul traveled the world, inspiring a revolt against communism in his native Poland and across the Soviet bloc, but also preaching against consumerism, contraception and abortion. John Paul was a robust 58 when the cardinals stunned the world and elected the cardinal from Krakow, the first non-Italian pope in 455 years.


Source: yahoonews/VICTOR L. SIMPSON, Associated Press Writer

Labels: Daily Musings
Saturday, April 02, 2005
Pray for the Pope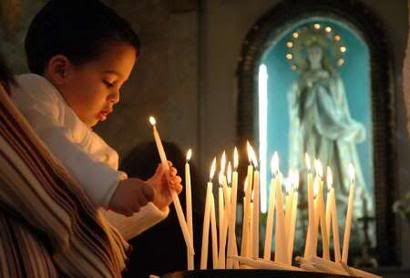 An earnest call to Prayer, lets us not just pray like we usually pray but let us pray with our whole MIND, HEART and SOUL for the Holy Father as he is suffering immensely at this moment. Lets pray for his recovery and if its God's will that He take him from us may his experience be Holy and Peaceful.
Labels: Thinking.Out.Loud