Thursday, April 28, 2005
American Idol Says Good Bye to...Constantine...
Can I just excuse myself for a moment...
NOOOOOOOOOOOOOOooooOOOOOOOOOOoooooOoooooOOooooooooOOOOOOooooO
OOooooOOOoooOOOOoooooooOOOOOOOOOOOOooooOOOOooooOOOOOOoooooooooo
ooOOOOOooooOOOOOOOOoooooooooooooooooooooOOOOOOOOoooooOOOOOOOOOO
OOOOooooooooooooooooooOOOOOOOOOOOOOOooooooooooooooooOOOOOOooooOOOo
OooOOOOOooooooOOOOooooOOooooooOOOOOOOOoooOOOOooOOOOooo!!!!!!!!!!!!!!!!!!
??!!????!!?Why Constantine??!!????!!?
American Idol Voters It's IMPERATIVE that you visit your ENT Doctor and ophthalmologist! Something is wrong with you guys... its a little troubling don't you think???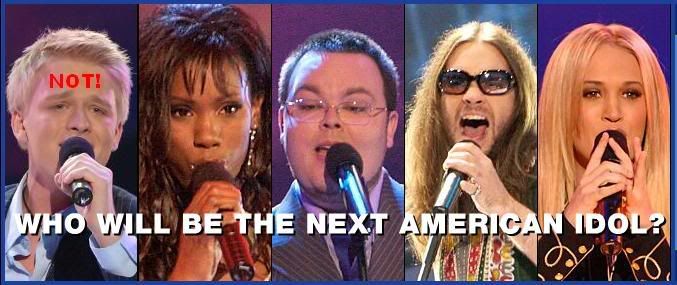 Now that all of my favorites have been voted out... I'm rootin' for Bo Bice and Vondel.
Its a sad... sad... sad day...
Labels: American Idol