Wednesday, April 20, 2005
Pope Benedict XVI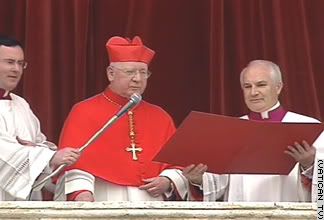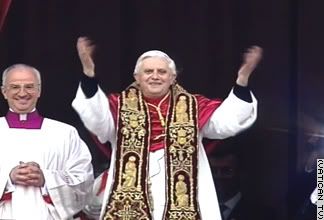 12:41 pm (Manila Time)

Cardinal Jorge Arturo Medina Estévez greeted the crowd in different languages and announced that Cardinal Joseph Ratzinger of Germany has been elected as The New Pope. He has chosen the name Benedict XVI

12:48 (Manila Time)

Pope Benedict XVI appeared from the balcony of the Vatican Basilica to greet the people and briefly addressed the crowd and deliver his first papal blessing.

"Dear brothers and sisters, after the great Pope John Paul II, the cardinals have elected me - a simple, humble worker in the vineyard of the Lord. The fact that the Lord can work and act even with insufficient means consoles me, and above all I entrust myself to your prayers. In the joy of the resurrected Lord, trustful of his permanent help, we go ahead, sure that God will help, and Mary, his most beloved mother, stands on our side."