Saturday, May 28, 2005
Can you kick it?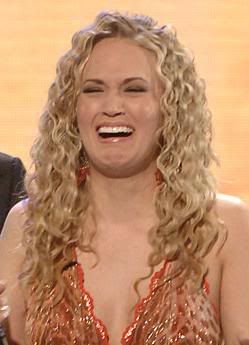 Carrie Underwood, a new addition to the American Idol stars.

I was kinda disappointed that Bo didn't win but at least this seasons filled with intrigues and great talent. A favorite in the finale episode was when the finalists sang with Idols. Vonzell's duet with Billy Preston and their rendition of "With You I'm Born Again" was amazing, proving once and for all that she deserves to be at the top three. My dismay over Bo not winning was over shadowed by the pouting cutie's flip flop kicking. Can't help but share this cute clip of Constatine I was laughing my head off. How can you do that and still be adorable at the same time.

Can't wait to have the finalists individual album namely Bo Bice, Constatine, Lindsey Cardinale, Anwar and Vonzell.
Labels: American Idol
Friday, May 27, 2005




Suplise! Surprise!

The surprise was a success!

THE PLAN for his 50th birthday: To have a big party and invite all of my dad's relatives without him knowing. "The day" was fast approaching he kept mentioning about what we would do on his birthday but nobody was listening and just simply ignored the topic. While we we having dinner my mom asked if it was ok to have their "prayer meeting" at our house on my Dad's birthday since the Chapel was already occupied (which was true). He abruptly agreed and was already planning as to the seating arrangements etc. My mom just let him worry not mentioning that everything has already been arranged, from the seats, guests, menu etc.

Although things didn't came out as exactly as we planned wherein all of the guests as a group would surprise my Dad instead some guests arrived 2 hrs early and the rest just keep coming on their own convenient schedule. The funny thing, "the catch", was my Dad was surprised as his Cousins, Uncles and pamangkins ( on his side of the family, he rarely gets to see them since he has been working abroad even before I was born) arrived one-by-one. He even told them that there would be a prayer meeting afterwards and that if its ok for them to join ( now of course the prayer meeting was postponed for another day) It didn't sink in until all of the guests were there, that was the surprise. My dad really likes entertaining guests Whahaha I'm the complete opposite. I'd rather have an intimate dinner than a big party. I've never seen our house filled with people this was our first big party eversince my brothers christening and he's like 16 now... O f course the night ended with karaoke being led by Tita Tess, a family friend. The party died down at around 2 am.

Labels: Daily Musings




Thursday, May 26, 2005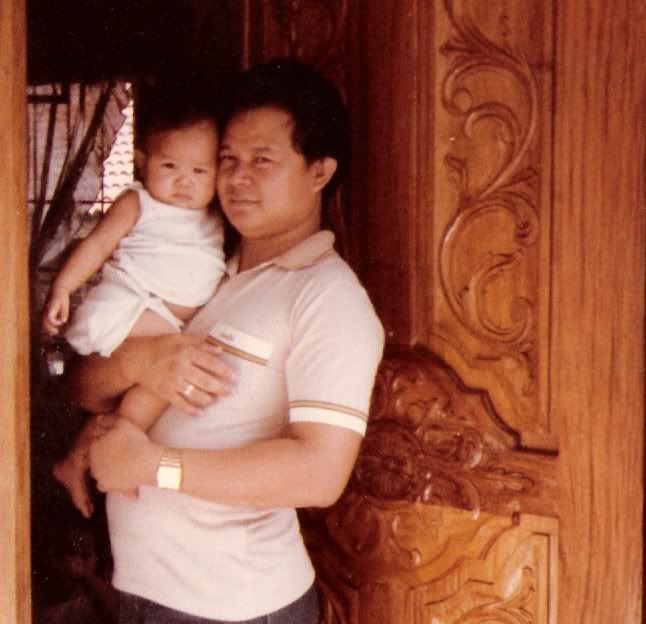 Thursday, May 19, 2005




Just keepin' this short

Finally after 10,000 years our dsl is already working! the company waived our dues for this month and the best thing is that the AC in my room was just installed this afternoon.. . no more hot days and nights! Still busy with our top secret golden boy party. He has no idea whatsoever about the event I'm not yet spilling the beans so till' then my hands are tied!


Wednesday, May 18, 2005




Ramblings

Recent events just made me build up my wall (again) ... way up... further than the Great Wall of China. It's sad really... less and less people can be trusted nowadays. The "most" disappointing is that even those you've considered "FRIENDS" can't also be trusted. Well the experience has been an eye opener and made me closer to my family. Your family is there for you no matter what and I can attest to that.

Again I was hesitant to post this but..what the heck let them read... if they even bother to. I'm tired of forgiving and forgetting, when I know that I can't really forget and when it just keeps on happening. They can talk and say all they want to say behind my back. All I can say is that they just lost my respect and they lost a friend.

I'm moving on... brushing off unwanted elements and looking forward to a new tomorrow.

Labels: Thinking.Out.Loud




Saturday, May 14, 2005


Amazing race just keeps getting better and better each season. The Amazing Race 7 is pumped up with adrenalin, drama and spectacular sceneries . My sister and I were watching the finale episode and we were just so into it, bigtime (ocassional screaming, side comments etc.). I'm so happy that Uchenna and Joyce won the race, worthy winners I must say.



Amazing Race & Winners!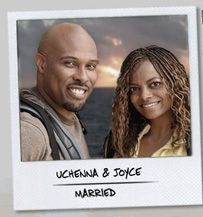 Another reality-show that I like, never missed one episode, is American Idol. Finally Anthony Fedorav is out from the competition. I didn't like him that much but despite that I must admit that he has improved alot but just not good enough. Pouting Constantine is also missed I just wish that he is still in the final three. The final three of the season four American Idol are Carrie Underwood, Vondell and Bo Bice. All of them are really good but I'm leaning on Bo to win but i have a hunch that Carrie would take home the title. I just have keep my fingers and toes crossed!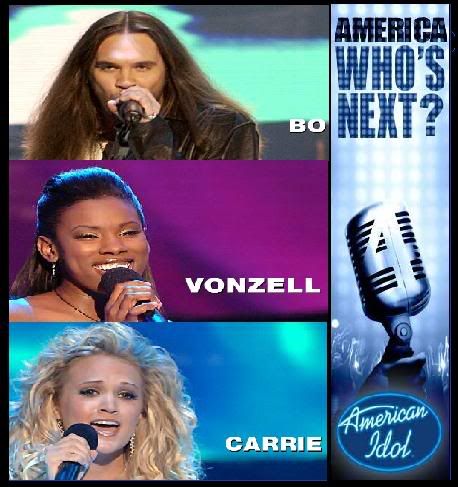 Labels: American Idol, Reality TV
Tuesday, May 10, 2005
Happy Birthday Barry!
.: Barry :.
Wow its been three years and still counting... We started the day with a morning walk with Barry and Sophie then had
ice cream
for my baby's bday. Barry was happier today, all smiles and playful, since everybody was extra-nice to him than the usual. I gave him his gift late this evening... a set of
practice golf balls
... the excitement usually kills his appetite since he'll be busy hiding under my bed and playing with his toy.
Note:
Regarding my last post, somewhat my alter ego just had to say something... Well... the issue has been already resolved. I've been keepin my opinion to myself eversince I could remember... Its about time to JUST THINK OUT LOUD... and be heard for once ( wahaha eversince I got sick I just realized a lot of things and made amends. This is one of them... so you just have to get used to the NEW me).
Labels: Daily Musings
Sunday, May 08, 2005




Accused

If you noticed I have removed Celine Dion's Image in my fanlist area but still remain a fan of her music. If you may ask as to why did I remove the "Image" I was accused of "Hotlinking" the image when in fact I hosted the Image using my photobucket account. I even double checked my previous templates to make sure before I make my move. You may think that I'm making a big deal about this... but when my credibility is on the line and being wrongly accused for that matter really... really gets me fired up. I just wished she politely e-mailed or posted a message on my tagboard regarding the matter to save her the humiliation.

I'm known to have a good temper and an educated lady... but please just this once I'd have to say what I really feel like saying and I hope that this will never happen again.

...You know who you are and I know that your still visiting my blog. keep your pathetic image! saksak mo sa baga mo! walo lang ang members sa fanlist mo ang yabang mo pa! And dear please... before posting anything especially here on the INTERNET check your sources... because I have the decency to do so. On the brighter side thank you for the FREE publicity and the healthy traffic that my blog has been receiving.

Labels: Thinking.Out.Loud




Saturday, May 07, 2005




Update

It's been a busy week for moi and I still have Barry's birthday and mothers day to think about. Yes you read it correctly it's Barry's birthday on May 10, Tuesday, and he is turning 3 (human time and or 21 yrs old dog time.... hehehe binata na ang baby ko *smiles*). We haven't decided if we are going somewhere to celebrate and or what to do (of course as the eldest I always initiate...).

I'd like to congratulate Champ, batchmate in HR College of Saint Benilde and was a practicumer at AHMC, and his bandmates for the success of their band Hale debut single "Broken Sonnet". I had the chance to watch Myx Live the other day. Benildeans are making their mark in their own way, Animo Benilde!

This is it for now, more updates to come.