Saturday, May 28, 2005
Can you kick it?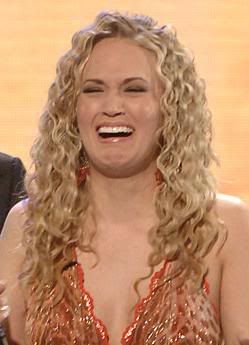 Carrie Underwood, a new addition to the American Idol stars.

I was kinda disappointed that Bo didn't win but at least this seasons filled with intrigues and great talent. A favorite in the finale episode was when the finalists sang with Idols. Vonzell's duet with Billy Preston and their rendition of "With You I'm Born Again" was amazing, proving once and for all that she deserves to be at the top three. My dismay over Bo not winning was over shadowed by the pouting cutie's flip flop kicking. Can't help but share this cute clip of Constatine I was laughing my head off. How can you do that and still be adorable at the same time.

Can't wait to have the finalists individual album namely Bo Bice, Constatine, Lindsey Cardinale, Anwar and Vonzell.
Labels: American Idol