Wednesday, June 08, 2005
Coming Soon
I have been sleeping a lot lately, my head just hurts and all I can really do is sleep. I have been working on my next blogskin "A tribute to Audrey Hepburn" and its almost finished. I haven't decided on what music that would fit perfectly. I'm leaning on classic tunes but haven't actually decided which artist, or maybe a soundtrack of Audrey's films.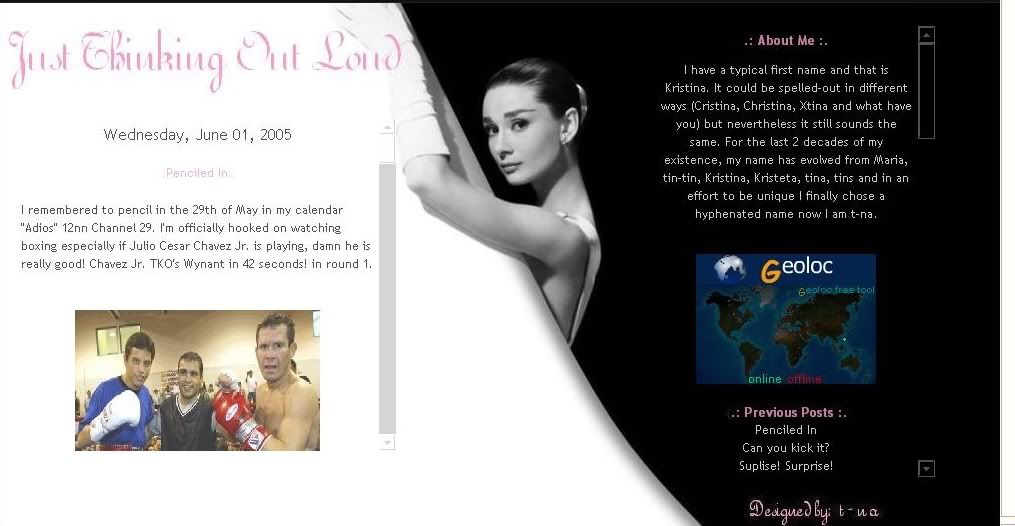 Still not decided if I'm going to watch "Beauty and the Beast".
Papa is already set on the 2oth for 6 months, his shortest contract by far. Well at least he will be here by Christmas and just in time for my birthday. I'm sure that its going to be extra special since I was still in grade school when he was here to celebrate Christmas and New Year (a decade ago...) and It's my first birthday that he will be here in the flesh. A sad story...you might think... but I or rather we all just got used to it. The only time that I really wished and hoped was that he attend my college graduation, I knew that it was impossible but I kept on thinking... what if he'll surprise me by coming home early. At the end of that day.. Supposedly a happy occasion ended with tears, Papa never came... but I already knew why he can't come its for the best interest of the family and in a few months he'll come home.
Labels: Daily Musings