Wednesday, June 01, 2005
Penciled In
I remembered to pencil in the 29th of May in my calendar "Adios" 12nn Channel 29. I'm officially hooked on watching boxing especially if Julio Cesar Chavez Jr. is playing, damn he is really good! Chavez Jr. TKO's Wynant in 42 seconds! in round 1.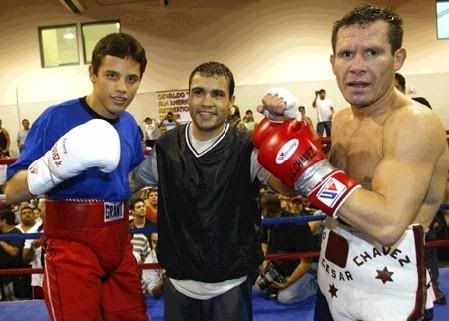 Chavez Jr. with Jesus Chavez and Chavez Sr.
For Filipinos (especially the male species) boxing is considered a favorite sport , "a-must-see" event.
When I was little I recall my Dad and Uncle glued on the TV for several hours watching two people placed in a wrestling ring, punching and beating up one another and I thought where is Hulk Hogan??!!?? Whahaha! I was a wrestling fanatic at the age of 5 and Hulk Hogan was my favorite. My Dad explained that they were watching "Boxing" and not wrestling. I didn't know the difference it all looked the same, the ring and the referee and all... except that they were punching and not all over each other. I said "Nahh.. ang panget naman nyan! wala si Hulk Hogan".
Since then I really didn't like watching a boxing match until... I saw the Morales vs. Pacquiao Match. Seeing him for the 1st time, 19 yr old Chaez Jr. , I doubted his abilities and he proved me wrong, looks can be deceiving. Chavez Jr. won against Ryan Maraldo, (TKO) Round 3 . Julio Ceasr Chavez Jr.'s current Record: 19 Wins, 14 KO's, 0 Losses.
Looking forward to 30th of July: Superstars Christy Martin and Lucia Rijker will collide in Top Rank's "Million Dollar Lady" showdown with the winner to collect $1,000,000 at the Mandalay Bay Resort & Casino in Las Vegas. The undercard will feature WBC #1 rated flyweight Jorge "Travieso" Arce of Los Mochis, Mexico. Arce, coming off a riveting, all-heart, sensational performance in an eliminator win over Hussein Hussein ( It was a bloody fight!) , will face long-time WBC champion Pongsaklek Wonjongkam of Thailand.
and of course.... as a special added attraction undefeated teenager Chavez Jr of Culiacan, Mexico will box in a six-round bout.
Labels: Tittle-tattle