Monday, June 27, 2005
Too bad
I wasn't able to watch the epic super lightweight championship showdown- Arturo "Thunder" Gatti vs. Floyd Mayweather, Jr. yesterday. Chavez Jr. was also one of the undercard against Ruben Galvan. Too bad... I should have checked his website sooner than I thought.
Julio Cesar Chavez Jr. gained his twentieth professional win and tenth consecutive knockout victory tonight with a fourth-round TKO. Galvan was knocked down for the first time in his career. That would be an interesting match to watch... I just pray that they would re-run the fight.
Labels: Daily Musings
Sunday, June 26, 2005




I am a Statistic

Finally I figured out how to post Radio blog in JTOL! after 3 days of reading their forum, the instructions that came with the file was just not so user-friendly. Nothing much to post... Well I've been watching the 4-5 hrs of debate in congress regarding the controversial tapes... the only consolation is seeing Cavite Representative Gilbert Remulla, chairman of the House committee on public information because he's cute hehehe other than that is pure chaos. Session will resume on wednessday with respect to Cardinal Sins' death.




Labels: Anything Goes
Tuesday, June 21, 2005


As scheduled papa already left last Monday and as a tradition I and my mom were the ones to take my dad to the airport.

I was saddened by the death of Cardinal Sin. He died 6:15 am this morning at the Cardinal Santos Medical Center in San Juan, Metro Manila. I first heard his name when I was only a child and I remembered asking my mom, innocently, as to why a sinner became a Cardinal? Because of that curiosity I followed the Cardinals every move at that time. I got the impression that he openly criticized "the current" administration and often reminded all of us that not only should we abide the law of man but most especially take into our hearts the commandments of God. Sin also had a fair share of critics dubbed as the "political-priest" meddling with political matters and walked the fine line between religion and politics but I admire him for speaking up, up holding the Churchs' morals and values and being the Church's strong voice.

"My duty is to put Christ in politics. Politics without Christ is the greatest scourge of our nation," -- Cardinale Sin

Labels: Daily Musings




Sunday, June 19, 2005




Happy Fathers Day

I finished my fathers day gift for my dad a few hours ago. Nicole again stayed here for the night and slept in my bed while I finish up my gift. Its still early to say if we are going out to celebrate meanwhile I'd like to greet all of the fathers a happy day.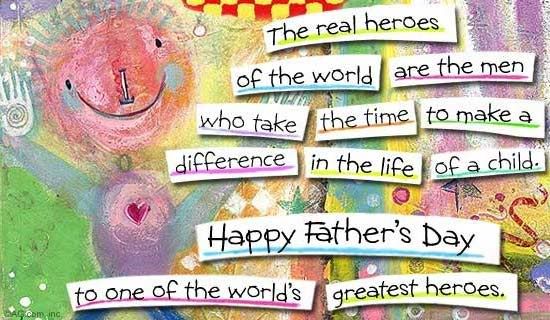 Friday, June 17, 2005




Thinking Out Loud: 3 notches louder

With Father's Day around the block I've decided to make Papa a flip book (mini-album) as big as a ¼ yellow pad paper. Last year... oh hehe didn't even greet my dad since we had an argument a few days before Father's Day. Come to think of it... we always had an argument whenever he comes home to take a vacation. My dad is approachable, friendly yet traditional/conservative and borderline strict wherein you think you got away with it but he reprimands through mama (pass the message) after the deed has been done. There are certain beliefs or values that we don't agree on and when I know I'm right I really fight for what I believe, especially if I know that I'm 110% sure that I'm correct. Papa on the other hand is stubborn and won't waive an argument even if what he says is already off the topic only to prove that what he says is correct. Haaha! I remembered waking up one early morning, Mama and Papa was having breakfast and I decided to join them. Both of them are in the same field Maritime and Shipping, they were sharing their experiences with their co-workers and some gossip. Sharing became a healthy conversation...then a debate. They were throwing viewpoints and position with regards to Manpower in my mom's company vs. my dad's company, who is better, who has the most and the least. I was just listening and laughing out loud during their debate. Ayaw talaga magpatalo ni papa.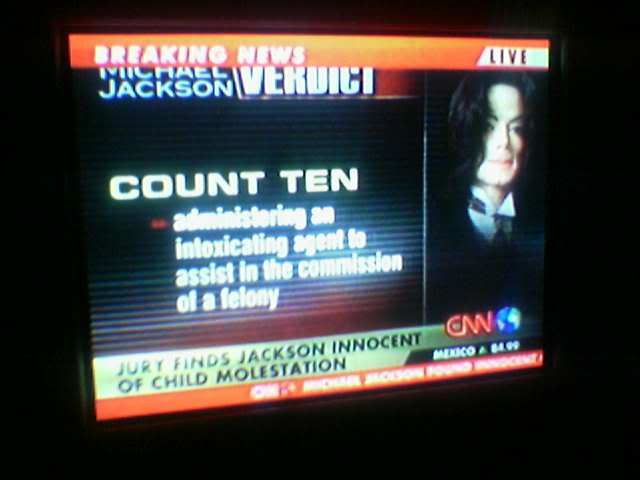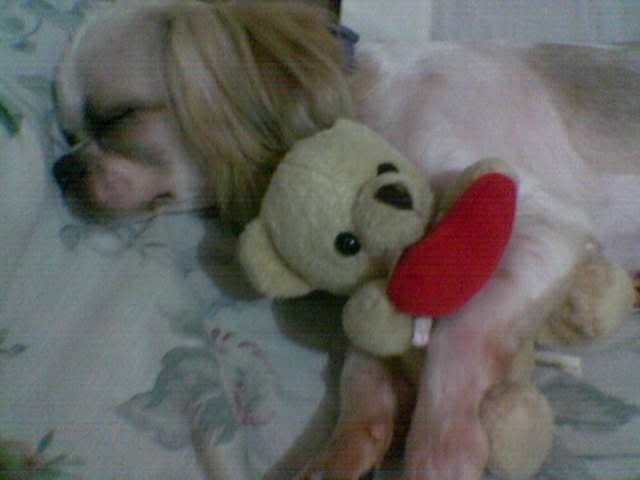 Going back to my gift, I have given cards, snoopy sailor stuff toys, trophies for my dad but the thing is he can't take it aboard since it's too big or awkward to carry around with you. He has really been bonding with my babies (our dogs), don't get the wrong impression, Barry and Sophie are dogs, little people with fur. Some people that I KNOW are dumb and downright insulted me to think that just because I don't go out with them, they spat and accuse me of being pregnant! ...I immaculately concieved on my own... bullshit! They just can't get it that they have been dumped... rejected. Read my LIPS I don't enjoy you're (backbitting) company anymore... get over it! I have compiled very cute pictures of them so that he could take it with him and cheer him up whenever he misses them. Ever since we had Barry he labeled him self as "Lolo Felip" (indirectly saying that he already is waiting for little Kristinas, pitter patter of little feet hahaha sorry to disappoint them but I'm leaning on single-blessedness with my dogs and my business) you might think that we are out of our minds but we just love dogs!

This is it for now... I think I thought out loud too much...



Labels: Thinking.Out.Loud




Sunday, June 12, 2005




107th Philippine Independence Day

Today we celebrate the 107th Philippine Independence Day. I was watching the independence day celebration held at the Quirino Grandstand. I was hoping Lea Salonga would perform but Grace Nono sang instead, she wasn't bad either.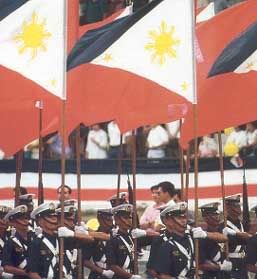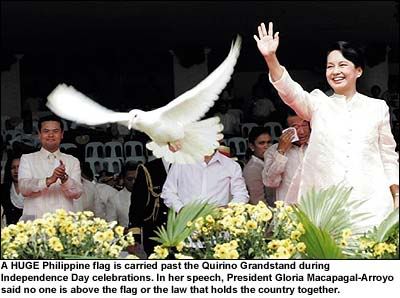 ** Pictures from Inquirer and Department of Tourism
A tribute to Audrey Hepburn
I am a fan of Audrey Hepburn and she served as my inspiration for my new skin. It's sad that I haven't discovered Audrey earlier. I first had a glimpse of Audrey when I was in highschool in the film Roman Holiday. She was very graceful, elegant, sophisticated and undeniably one of the most beautiful people that ever walked here on earth. Ms. Hepburn not only has a beautiful face but also a big heart for children all over the world. In 1988, Audrey embarked on her second career as UNICEF's international Goodwill Ambassador. For five years, until her death in 1993, Audrey devoted all her energy to working with UNICEF.

Nicole, my niece and inaanak, is staying with us at the moment. She adores Barry and Sophie a lot. She would often ask Tita Ding if they could visit here because she wanted to see me... or rather my lovable dogs... So finally she was permitted by her mom (my cousin) and Lola Ding to stay here for the night till tomorrow afternoon. I really love kids although sometimes they tend to be very naughty and rowdy but I'd have to admire how they think and freely express themselves.

This is it for now, till next...


"I can speak for those children who cannot speak for themselves, children who have absolutely nothing but their courage and their smiles, their wits and their dreams."
- Audrey Hepburn
Labels: Daily Musings
Saturday, June 11, 2005




Get with the Program!

Late Friday afternoon Former National Bureau of Investigation (NBI) intelligence chief Samuel Ong, who claims to have proof that the President rigged the 2004 elections, appealed to the Catholic Church to take him into its custody since he feels that his life is already in-danger.

"So, Mrs. Gloria Macapagal-Arroyo, if you love the Philippines, I appeal to you to resign. You are the source of all the problems of the country. The one sitting in Malacañang is not the real President of the Republic of the Philippines" - Samuel Ong Can every politician and aspiring politician just shut their freakin' mouths! taking advantage of the flashlight or rather the limelight and especially to those who are suggesting that PGMA to resign put a sock into it! Dada ng dada! I'm getting sick and tired of hearing distabilization plots against the president! I sweared before that I won't make a post about politics here in the Philippines but I just can't resist. At first, they claimed that PGMA should step down since her son, Mikey Arroyo and some other Arroyo was involved in "Jueteng". Huh??? I just can't make sense out of that and now an alleged master tape of the conversation between PGMA and a COMELEC official during the 2004 Presidential Elections.

Edsa 1... was an empowering experience, Edsa 2... once again..pwedi pa.... Unofficial Edsa 3... mga KSP alang kwenta ( puro mga bayaran naman ang pumunta!) but another attempt... for the 4th... all because of a tape that hasn't been authenticated... its a case of he said she said. Asking for current Presidents to step down isn't always the solution. If you truly love or care for our country push for the legal process to take place and not just rallying up at Edsa.

Labels: Thinking.Out.Loud




Wednesday, June 08, 2005




Coming Soon

I have been sleeping a lot lately, my head just hurts and all I can really do is sleep. I have been working on my next blogskin "A tribute to Audrey Hepburn" and its almost finished. I haven't decided on what music that would fit perfectly. I'm leaning on classic tunes but haven't actually decided which artist, or maybe a soundtrack of Audrey's films.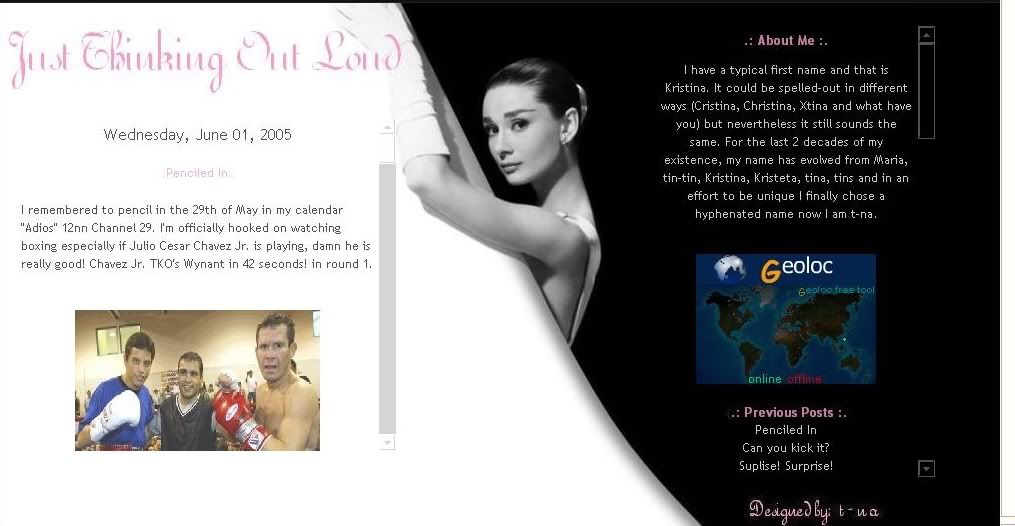 Still not decided if I'm going to watch "Beauty and the Beast".

Papa is already set on the 2oth for 6 months, his shortest contract by far. Well at least he will be here by Christmas and just in time for my birthday. I'm sure that its going to be extra special since I was still in grade school when he was here to celebrate Christmas and New Year (a decade ago...) and It's my first birthday that he will be here in the flesh. A sad story...you might think... but I or rather we all just got used to it. The only time that I really wished and hoped was that he attend my college graduation, I knew that it was impossible but I kept on thinking... what if he'll surprise me by coming home early. At the end of that day.. Supposedly a happy occasion ended with tears, Papa never came... but I already knew why he can't come its for the best interest of the family and in a few months he'll come home.

Labels: Daily Musings




Wednesday, June 01, 2005




Penciled In

I remembered to pencil in the 29th of May in my calendar "Adios" 12nn Channel 29. I'm officially hooked on watching boxing especially if Julio Cesar Chavez Jr. is playing, damn he is really good! Chavez Jr. TKO's Wynant in 42 seconds! in round 1.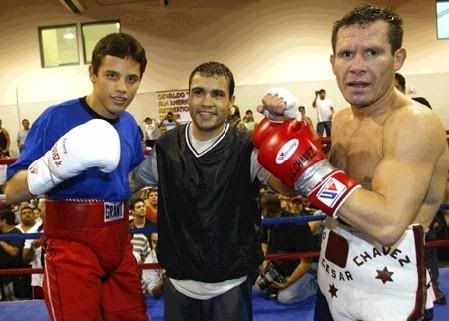 Chavez Jr. with Jesus Chavez and Chavez Sr.

For Filipinos (especially the male species) boxing is considered a favorite sport , "a-must-see" event.
When I was little I recall my Dad and Uncle glued on the TV for several hours watching two people placed in a wrestling ring, punching and beating up one another and I thought where is Hulk Hogan??!!?? Whahaha! I was a wrestling fanatic at the age of 5 and Hulk Hogan was my favorite. My Dad explained that they were watching "Boxing" and not wrestling. I didn't know the difference it all looked the same, the ring and the referee and all... except that they were punching and not all over each other. I said "Nahh.. ang panget naman nyan! wala si Hulk Hogan".

Since then I really didn't like watching a boxing match until... I saw the Morales vs. Pacquiao Match. Seeing him for the 1st time, 19 yr old Chaez Jr. , I doubted his abilities and he proved me wrong, looks can be deceiving. Chavez Jr. won against Ryan Maraldo, (TKO) Round 3 . Julio Ceasr Chavez Jr.'s current Record: 19 Wins, 14 KO's, 0 Losses.

Looking forward to 30th of July: Superstars Christy Martin and Lucia Rijker will collide in Top Rank's "Million Dollar Lady" showdown with the winner to collect $1,000,000 at the Mandalay Bay Resort & Casino in Las Vegas. The undercard will feature WBC #1 rated flyweight Jorge "Travieso" Arce of Los Mochis, Mexico. Arce, coming off a riveting, all-heart, sensational performance in an eliminator win over Hussein Hussein ( It was a bloody fight!) , will face long-time WBC champion Pongsaklek Wonjongkam of Thailand.

and of course.... as a special added attraction undefeated teenager Chavez Jr of Culiacan, Mexico will box in a six-round bout.

Labels: Tittle-tattle