Thursday, March 30, 2006
Bits and Pieces
Just arrived from NAIA International, my dads' flight is around 7:00 am. He'll be gone for another 6 mos or until he finishes his contract. The short trip back home my mom, lynna and I were reminiscing Papa's 3 mos vacation with us his funny antics, oc tendencies, old and new manerisms and of course the dogs. They'll surely miss papa, no doubt.
JTOL: what's new?
I have updated my soundtrack, Carlos Santana feat. Steve Tyler "Just Feel Better". An awesome duo, I even searched for the video on youtube.
Just finished uploading
American Idol 5 MP3s : Songs of the 21st century

So far that's it.
Labels: Lyrics and Tunes
Monday, March 27, 2006




Jesus take the wheel

Just woke up, and I can't sleep anymore so I decided to post some thoughts that lingered me for sometime now.

I really don't like Carrie Underwood, I wanted Bo Bice to win last years' season of American Idol. Quite odd, she has a song in her debut album that keeps playin' in my head and completely stuck when I got to watch the music video. In denial that I actually like the song she sang and as a matter of fact I enjoy listen to it. It moves me in a weird way up to the point that I get emotional listening to it. Wow, can't believe I'm pouring my heart out like this so cheesy... I don't like being cheesy! Well, while I'm at it might as well get rid of it now, and vent it out. The song I'm referring to is entitled "Jesus Take the Wheel". I hope that someday and sooner, I'll conjure up the courage to say "Jesus take the wheel of my life". Complete surrender, the big flaw that I am, all of my fears, hang-ups, issues, past, present, future and my numb heart. If you haven't seen the video or heard of the song, I've posted the lyrics of the song and a Youtube video below.



Jesus, Take the Wheel


performed by: Carrie Underwood
(James/Lindsey/Sampson)

She was drivin' last friday on her way to cincinnati
On a snow white Christmas Eve
Goin' home to see her Momma and her Daddy
With her baby in a back seat
Fifty miles to go and she was runnin' low
On faith and gasoline
It'd been a long hard year

She had a lot on her mind and she didn't pay attention
She was goin' way too fast
Before she knew it she was spinnin on thin black sheet of glass
She saw both their lives flash before her eyes
She didn't even have time to cry
She was so scared, she threw her hands up in the air

(Chorus)
Jesus take the wheel
Take it from my hands
'Cause I can't do this on my own
I'm letting go
Give me one more chance
Save me from this road I'm on
Jesus take the wheel

It was still getting colder when she made it to the shoulder and that car came to a stop
She cried when she saw that baby in the back seat sleepin' like a rock
For the first time in a long time she bowed her head to pray
She said I'm sorry for the way
I've been livin' my life
I know I've got to change
So from now on tonight
(Repeat chorus)



Labels: Lyrics and Tunes




Thursday, March 23, 2006




American Idol 5 - Goodbye Chicken Little Kevin

Chicken Little has left the building... I'm not rootn' for him but I'm a little sad that he finally left.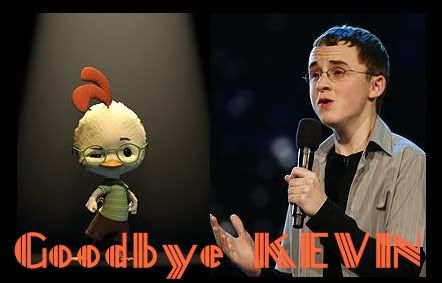 Labels: American Idol
Wednesday, March 22, 2006




American Idol 5 - Songs of the 50's

The songs are from the 50's and this weeks musical guest is Barry Manilow. The contestants flew to Las Vegas to meet Barry and work with him with their chosen piece. Yah, I have heard a couple of his song my dad used to play when I was still little but last night he just amazed me, no wonder he lasted this long. The way he arranged the songs for each contestant, injecting a special touch to each piece. I also like the way he encouraged each contestant to make the song his/her own. Barry definitely earned a degree of respect from each of the contestants and as well from moi.

The show started with Mandisa with "I Don't Hurt Anymore". Barry thought that she can sing from any range and an invitation to work for him just incase it didn't work out with American Idol. Mandisa wore a black dress and extra bling which highlighted her beautiful face. Praises from the judges followed Mandisa's standing Ovation performance. "Classy and amazing way to open the show - Randy" " Flawless performance - Paula" and "Blossoming, sexy performance - Simon" Simon just can't help it as he followed thru with "It's like a stripper song and I absolutely loved it". Another wow performance by Man-diva.

Next was Bucky Covingtons' rendition of "OH Boy". Barry thought that the song was too repetitive thus he played with the arrangement of the song. Prior to last weeks comment about Bucky's Jessica Simpson hair, I actually like it he looked nice and neat. I actually enjoyed Bucky's performance. Is it just me... Bucky looks cute and cuter as the weeks progress. Randy welcomed the "old Bucky hair" back and said it was the right song choice for him. Paula thought that Bucky had fun performing. Simon "A reality check - pointless karaoke performance."

Paris Bennett chose the song "Fever" for this weeks 50's theme. I was lookin' forward to this song since I really like it a lot. More or less I had an idea how she would sing this piece since she sang this song acapella in the Hollywood week. Barry was surprised with Paris' depth and power voice, "shocking" was the exact word that he used. So far my favorite performance by Bennett, but I still don't like her. Paris' performance was interrupted by a "Constantine" sighting in the audience, he still looks great but I'm not that so into him as the last season. Another standing ovation by the crowd as the judges made their respective insights. "Experience beyond her age - Randy" "Vocals were impeccable - Paula" and lastly "A great song for Paris - Simon".

"You don't need me, you got it. - Barry" Chris Daughtry's' rendition of "I Walk the Line" by the famous Johnny Cash was rearranged to suite his style. It was just an okay performance for me compared to last week. The judges agreed that it wasn't his best vocal performance but at least he made the song his own. The first ever in AI history a contestant that won't compromise.

One of my most awaited performance Katharine McPhee. She chose "Come Rain or Come Shine." Katharine looked beautiful as usual. The only advise Barry gave to Ms. McPhee was "Just sing it to someone, it helps". The opening of the song was breath taking, her sexy sultry voice just exudes her. The judges couldn't agree with me more. "Wow... You know what once again a difficult song and you worked it out not the best but... - Randy" "Only you can pull a Fritzgerald and with your exquisite look - Paula" and of course "Something happened tonight... You turned into a star, a special category, Loved it." She reminds me of Lindsay Cardinale of last season. I'm definitely looking forward to her album.

"Great voice, he sound so natural. One of the best male vocalist in the show. - Barry" Taylor Hicks, another favorite, chose "Not Fade Away". I love the haircut and the suit that he wore. Paula was groovin' to the beat and the sax was just perfect for the song. Taylor soulful as ever danced and moved. Another standing ovation from the audience. Admittance not his best vocal performance but he just so full of energy. Hilarious comments from the judges followed. Paula " Someone should be shootin' this and make an exercise video out of it, Everyone will just loose weight" followed by Mr. Cowell "Great voice but it was like a party performance, Stop talkin' rubbish Paula, this is not a dancing show"

Lisa Tucker chose an upbeat song which suited her age "Why do Fools Fall in Love". Whenever Lisa's performing I always feel like I'm watchin' Star search, I don't know why. She can definitely sing and has a beautiful voice, I'd actually prefer Lisa over Paris.

Prepare to shed a tear chicken Little Kevin was next. Described as one of the sweetest of all of them by Barry. He chose "When I Fall in Love" which suits his personality sweet-innocent. I bet all of the granny's out there really enjoyed his performance. An unexpected comment from Randy "My favorite song, I see myself in you". Kevin is currently backed up by the "Votefortheworst.com", who previously supported Kellie then as the worst.

Elliot Yamin with "Teach me Tonight". He received praises from the judges but I thought that it was boring and he was disconnected with the camera.

Kellie "Pick Me" Pickler sang "Walkin' After Midnight", good song choice. Better than last week, Pickler is back oozing with charisma. Barry described Kellie's voice as "Natural and beautiful sound. Paula described Kellie as "A tigress, an authentic Pickler performance". I can't believe that Pickler was considered for votefortheworst.com.

Lastly, Ace Young with his rendition of "In the stillness of the Night". A jazzed up version of the song that Mr. Manilow never heard of before. I really don't like him at all, he is just a pretty face. The ending with the round and round camera effect on Ace got me dizzy. Boyband material.

Labels: American Idol




Saturday, March 18, 2006




Measles

My brother just got the measles and I'm really worried that I'll get them too... I get goosebumps just thinkin' about it. I searched the internet for more facts, and advised my brother to cover whenever he sneezes and or cough in the hopes of at least controlling the spread. I even provided him with his own trash bag and rolls of tissue.

He keeps complaining how "OC" I am. "Ate, eventually you'll also catch this one" my brother said and I replied "Well I'm not planning on having it now... am I?!?" If I got it , more or less the symptoms such as rashes will appear after 4-5 days. As per the call I made to their veterinary, I'm just relieved that my dogs are safe and would not get infected. Till then... Lysol and Alcogel are my best friends.

Labels: Daily Musings




Thursday, March 16, 2006




Maki Craving

I've been craving Hanakazu's California Maki Roll and I finally had the chance to get me some! Hanakazu is located at BF Homes Parañaque. They serve fresh quality Japanesee food, it's a must try (free ad here, just incase the owner reads this AHhem... Discount card hehehe) . I was surprised that they increased the price since I last ate there a couple of weeks ago... from P180 to P200 per serving (6 pieces). Somewhat dismayed of the P20 increase, as well as the serving became "medium size". Relatively (still) bigger than the usual maki's offered in other Japanese restaurants but smaller than the usual Hanakazu maki rolls I had when it first opened. I feel so helpless, I just keep comparing, I can't enjoy a California Roll unless it's from Hanakazu. Oh bah! might as well savor every bite.



Just Love Them!

Labels: Daily Musings




Saturday, March 11, 2006




Almost Burned our House
Yes you read it correctly, Just this morning I almost burned our house down.

I woke up around 6:30 am did my usual morning routine and then decided to have breakfast. There was bread, jam and fruits hmmm... I want something warm but was too lazy to make toast. So I opened our fridge and there it was, monggo pao left over from chowking that we had yesterday. A frozen monggo pao... there's nothing the microwave can't fix and so I thought. I popped one in the microwave for about 1 1/2 mins. Diligently I watched the siopao twirl, round and round it went. *Beep* it stopped I checked if it was ready but it was still a little stiff, a few more minutes, maybe? I thought. Pressed 1 minute twice and then the doorbell rang. Since everybody was still confined in their respective rooms, hurriedly I went to see who rang the bell. A family friend delivered fresh oysters as a gift and managed to squeeze in a conversation. I totally forgot the monggo pao that was still in the microwave! Just as I entered the main hall there it was thick white smoke coming from the kitchen area. Adrenaline just took over, I ran and managed to open the microwave door and at the same time unplug the unit. Relieved that nothing worse happened, I announced to my family members "I just burned a monggo pao" and laughed at myself. This one is definitely in the list of the stupid things I did.

Labels: Daily Musings




Friday, March 10, 2006




American idol: Top 12 Unveiled

I'm sad that Layla received the 2nd lowest vote, which meant her elimination. She seemed disappointed by this, she hardly sang her last song for the season. I really like her alot. It was the choice of song that pulled her down, Simon even stressed that she wasn't the reason it was just the song choice she made. Another elimination shocker was Gedeon and his 1000 watt smile or as Simon says "grin". I had my bet on Bucky and Kevin to be eliminated but Gedeon took the toil instead.

Mandisa and Chris astonished me with their respective rendition of "I'm Every Woman" (Mandisa) and "Broken" (Chris). I knew that Mandisa could sing but she definitely out-sang everybody this week. I was like... woahhh she's definitely a hot one dog pound! Chris on the otherhand did a fantastic version of Seether's Broken.



The top 12 was unveiled as America gets closer to this seasons American Idol. First row from left to right Bucky Covington, Chris Daughtry, Elliot Yamin, Kellie Pickler, Mandisa, Paris Bennet. Second row from left to right Ace Young, Taylor Hicks, Kevin Covias, Katharine McPhee, Lisa Tucker and finally Melissa McGhee.

Labels: American Idol







Mp3s of American Idol Season 5

Here are a couple of MP3 of this seasons American Idol 5. These so far are my favorite songs that the contestants rendered. I'd be uploading a new file as soon as I get the chance, just check the main page for updates. I'll be welcoming requests, just incase you want something that isn't here. Enjoy listening.

Ayla Brown
Auditions Ayla Brown - Ain't No Mountain High Enough
Ayla Brown - Reflection
Ayla Brown - I Want You To Need Me
Ayla Brown - Unwritten

Becky O'Donahue
Becky O'Donahue - Because The Night

Bucky Covington
Bucky Covington - Superstition
Bucky Covington - Oh Boy
Bucky Covington - Real Good Man
Bucky Covington - Best I Ever Had

Chris Daughtry
Chris Daughtry - Broken
Chris Daughtry - I Walk the Line
Chris Daughtry - What If
Chris Daughtry - Making Memories of Us
Chris Daughtry - Have You Ever Really Loved a Woman
Chris Daughtry - A Little Less Conversation

Elliot Yamin
Elliott Yamin - Knocks Me Off My Feet
Elliot Yamin - I Don't Wanna Be
Elliot Yamin - Home
Elliot Yamin - Trouble

Katharine McPhee
Auditions Katharine McPhee - God Bless The Child
Katharine McPhee - Since I Fell For You
Katharine McPhee - All in Love is Fair
Katharine McPhee - Think
Katharine McPhee - Until You Come Back To Me
Katharine McPhee - Come Rain or Come Shine
Katharine McPhee - The Voice Within
Katharine McPhee - You're Bringing Out the Elvis in Me
Katharine McPhee - Who Want To Live Forever
Katharine McPhee - Someone to Watch Over Me
Katharine McPhee - I Have Nothing
Katharine McPhee - Black Horse and the Cherry Tree
Katharine McPhee - Hound Dog/ All Shook Up
Katharine McPhee - I Believe I Can Fly
Katharine McPhee - Somewhere Over The Rainbow
Katharine McPhee - I've Got Nothing But The Blues

Kellie Pickler
Auditions Kellie Pickler - Since U Been Gone, Broken Wing
Kellie Pickler - Something To Talk About
Kellie Pickler - I'm The Only One
Kellie Pickler - Walkin After Midnight
Kellie Pickler - Fancy
Kellie Pickler - Bohemian Rhapsody

Kevin Covais
Kevin Covais - Part-Time Lover
Kevin Covias - When I Fall In Love

Mandisa
Auditions Mandisa Hundley - Fallin'
Mandisa - Never
Mandisa - Cry
Mandisa - I'm Every Woman
Mandisa - I Don't Hurt Anymore
Mandisa - Wanna Praise You

Melissa McGhee
Melissa McGhee - What About Love

Paris Bennett
Auditions Paris Bennet - Cowboy Take Me Away, Take Five
Paris Bennett - Midnight Train To Georgia
Paris Bennett - Fever
Paris Bennett - Work It Out
Paris Bennett - Kiss
Paris Bennett - Be Without You

Taylor Hicks
Taylor Hicks - Playing the Harmonica
Taylor Hicks - Levon
Taylor Hicks - Easy
Taylor Hicks - Taking It To The Streets
Taylor Hicks - Living For The City
Taylor Hicks - Not Fade Away
Taylor Hicks - Trouble
Taylor Hicks - Take Me Home Country Road
Taylor Hicks - Crazy Little Thing Called Love
Taylor Hicks - You Send Me
Taylor Hicks - Just Once
Taylor Hicks - Play That Funky Music White Boy
Taylor Hicks - Something
Taylor Hicks - Jailhouse Rock
Taylor Hicks - In The Ghetto
Taylor Hicks - Try A Little Tenderness
Taylor Hicks - You Are So Beautiful

American Idol 5 Finale MP3s

NEW


Katherine McPhee - It's All Coming Back (ft. Meatloaf)
Katherine McPhee - Somewhere Over The Rainbow
Katherine McPhee & Taylor Hicks - I Had The Time Of My Life
AI5 Girls - Man I Feel Like A Woman Medley
AI5 Top 12 - Bacharach Medley (ft. Diane Warwick)

American Idol 5 Finale Video (Quicktime)

NEW


Katherine McPhee - Somewhere Over The Rainbow

Labels: Lyrics and Tunes




Thursday, March 09, 2006




Movie Reviews: Brokeback, Aeon Flux & Memoirs

I was still able to watch "Brokeback Mountain" on its' last week. I watched the movie out of curiosity to see what was all the buzz about. Although raised with strict catholic values my mom imposed on us, I grew up with an open mind. I respect certain practices and beliefs the Catholic Church deemed not acceptable. The film addresses forbidden love between two cowboys. Set in the 1960's, Ennis Del Mar (Heath Ledger) Jack Twist (Jake Gyllenhaal) struggle not only in hiding their elicit love from their loved ones and society but also the struggle within oneself. The most touching scene for me was when Ennis opened the closet neatly hanged Jack's garment and a picture of brokeback mountain. I recalled something similar to that scene and the emotion of longing for someone who has gone away. I was in highschool, in a time where I and my dad finally established a bond together in the midst of arguments. It was already routine, he had to leave us to work abroad but this time it was a different experience for me. After he left for the airport. I'd secretly lock myself in my parents' room and cry. Hoping that the lingering smell of the perfume my dad wore would somewhat ease the unfamiliar pain in my chest. The soundtrack is amazing, it's distinct sound subtle yet powerful. This soundtrack will take you back through the highs and lows of Jack and Ennis' lives and love. I can't imagine this film without Gustavo Santaolalla

.

This movie is at it's best when you watch it without prejudice, take it as it comes. On a lighter note, a Marlboro ad is never the same again.


I've watched a couple of episodes when it was still on-air but I never understood the story. Aeon Flux is based on the MTV animated series created by Peter Chung. Set 400 years in the future, a disease wiped out majority of the earth's population except for the protected city, Bregna. Aeon Flux (Charlize Theron) a top operative in a underground "Monican" Rebellion. She is sent on a mission to kill a government leader Chairman Treavor Goodchild (Marton Csokas) instead she uncovers a world of lie and secrets. After watching this film, all the questions that I had were quickly answered, everything made sense. Charlize looked hot and equally portrayed Aeon quite well. Somewhat surprised that the movie flopped considering that there are a lot of MTV viewers all over the world. If the storyline had more meat no doubt this would be a hit but Nonetheless it's a good movie, entertaining.


Based on the international best-seller by Arthur Golden, Memoirs of a Geisha is an epic story of love and betrayal set against the broad and rapidly changing social canvas of 20th century Japan. Nine-year old Chiyo, a poor fisherman's daughter, is taken from her family and sold to a geisha house. From her start as a common household maid, she blossoms into one of the most renowned geishas. I haven't read the book and I have a vague idea of Japan and it's culture. Having the said background I enjoyed this movie a lot, it's visually stunning. I almost considered reading the novel. I'm not exactly a bookworm you see but being close to the feeling that I actually want to read something says a lot, perhaps someday I will. If you haven't watched memoirs I highly recommend that you watch it on the big screen.

Labels: Gadgets Blogs and Such




Monday, March 06, 2006




Sniffles and Bits of Reality TV

I haven't been feeling well for about a week now since I got the sniffles which eventually led to coughing and a sore throat. I'd rather have fever or a headache rather than a sore throat, I just hate it! I can't drink cold stuff, my voice sounds funny - no karaoke, it's been a while actually and I became a phlem factory ...ewww... In a span of 7 days I developed a habit of sleeping early, missing out on quality TV time. I missed watching a couple of episodes of American idol, Pinoy Big Brother and Amazing Race premier 2-hour episode, this really sucks! big time!

I'm reading a couple of forums and watching youtube to catch up on the said programs.



Pinoy Big Brother: Celebrity Edition:


Rustom Padilla - "I'm gay, hindi ako masamang tao" words uttered by the teary eyed prodigal son of showbiz. I wasn't surprised when Rustom came out, I always had a hunch that he is gay. Nevertheless coming out on nationwide TV takes guts. Rustoms' confession boosted his chance of staying in the PBB house who garnered the highest text votes at 46.5% , winning the vote of different gay communities/group here in the Philippines. Last March 3 after an interview with "Magandang Umaga Bayan" Robin Padilla barged in Big Brother's house to defend his brother, Rustom, from Christian Vasquez's "misinterpreted drag act"damaged Christians' chance as he garnered the lowest text votes at 13.5%. Rico Robles, nominated twice in a row, was given another shot at the PBB house as he placed 2nd with 40.9% text votes. Rumors spreading about Rico's sexuality has been floating around. Rico is one of the popular RX 93.1 disc jockeys here in Manila, he has a loyal following from his listeners and friends. Rumor has it that the said discjockey also has a secret that he has to disclose following Rustoms' confession, but I'm convinced that he is not gay or bi-sexual.




American Idol 5


A not so amazing week on AI the judges stressed on good song choice. Brenna, Heather, David and Sway were eliminated. Sway the Fil-Am bet has been eliminated, his rendition of Stevie's "Overjoyed" according to Simon is just plain "karaoke singing". Although he is a kababayan, he is not on my list, just like in Jasmine Trias' case when she joined AI. I wasn't really impressed in the auditions alone. Brenna has character and spunk but her voice lacked uhmp... the wow factor. I've been rootin' for David to go, he really does the Frank Sinatra/ crooner thing which limits him to just one genre of music or as an artist. As for Heathers' version of Mariahs' "hero" was forgettable, I barely knew her as a contestant.

Labels: Reality TV